"Jazz stands for freedom. It's supposed to be the voice of freedom: Get out there and improvise, and take chances, and don't be a perfectionist - leave that to the classical musicians.'' ~ Dave Brubeck
Street photography over the decades, like jazz over the decades, is in some ways a product of the society it finds itself in, and in other ways far outside it.
When I'm not working on specific subject matter, long or short-term photo projects and so forth, I generally find myself approaching street photography as an improvisation of sorts. Freestyle. I may have an idea of what I'd like to create, but generally there is no strict formal planning in my process. I follow the light, look for the scenes, and let my instincts, intuition and guts guide the way. As much as I may be influenced by photographer's who's work I admire (William Klein, Robert Frank, Henri Cartier-Bresson, Robert Doisneau, Elliott Erwitt, Fritz Henle etc), I try to be as original as I possibly can. Working like a solo jazz musician performing his own compositions, I believe that to try and recreate photography styles of past greats is a false aesthetic for the serious modern-day street photographer to follow, since a truly improvising musician, like a street photographer in search of inspiration from the streets, must also reflect their direct influences of the times, most of which must come from the society that surrounds them in the here and now, the feeling, look and sounds of that society. Even if the result resembles that of timelessness, or of another time (which some of my street images seem to do), that isn't really my aim, although it is something I'm personally drawn to. The more things change, the more they stay the same. This saying makes me think, "Well, what is changing?" It's a very broad question, but when you think about it, everything is changing all the time. Like music making, filmmaking, and photography, only the most basic of their fundamentals remain the same.
be original. find your own style, your own groove.
Different creatives reflect different influences on the work, sometimes mixing more than one element in their outlook. This eclectic myriad of styles and influences is very much a reflection of our society. We live in the information age' never has so much information been available to everybody, via mass-media and the internet. Music, film, video, the written word, and photographic images are no different - today one is met by a baffling array of media, and literally anything being produced for consumption, even the most obscure art forms, are available to see and hear through the internet.
Through your own interpretation via the lens I choose to hold up to society, I hope to spark questions from the images I produce and choose to present.
We are bombarded with so much sensory information; smells and tastes, music and sound, stills and motion, it is hardly surprising that jazz musicians, as they have always done, use this information to inform their own approach to music making, taking inspiration where they can find it. In this way the music they create is absolutely reflective of the society in which it lives. Not unlike the modern-day street (social) photographer capturing the times we live.
My photography is highly personal, humanist in nature and focus. Filled with heart and soul fuelled by years of walking the City, I find myself in a continual state of amazement, highly tuned-in to the hidden-in-plain-sight surprises the concrete jungle offers up in the almost inexplicable, mystic-like rhythm and movement of her streets. It is through that documentation of real-life, informing the audience with the use of texture, reflection, shapes and lines, light and shadows, and energy, I want you to be able to smell it, hear it, taste it. Feel it.
It is about the search for meaning in the world.
When I push the shutter button it is done so with absolute intent. I have chosen to photograph something because I felt strongly about it in that moment. So even in the 'improvisation' that I experience in shooting street-style, I am always thinking. Always 'seeing'. I try do this by looking for the extraordinary in the ordinary of the urban human condition, accentuating the mundane in the daily reality of things many of us might choose to ignore. As far as I am concerned, nearly all of public society, all subject matter, the rich, the working class, the sad, mad, or humorous, to the old or young, to the plight of the discarded or marginalized, the pain or misery, it really is all equal opportunity when I bring the viewfinder to my eye. And in the finality of what is captured, it is left up to the EYE-of-the-BEHOLDER, you the observer, not necessarily in finding the beauty, but rather the TRUTH.
JAZZ, like street photography, IS FREEDOM WITH DISCIPLINE. Be committed. Be passionate.
And try as hard as I may to tell the one-frame visual story, to make sense of it all, that will almost always be a fruitless effort. One song, like one frame, is not the entire body of work. So the stories often remain incomplete, cryptic at times, even to me, until they are complete. Like organized chaos similar to that of improvised jazz, acting like poems do, activating the viewer's mind to fill in the story and its meaning for themselves.
Authenticity for me is the key when shooting street. I am simply an observer, capturing raw unrehearsed and unmediated theatre of unknowns. The spirit and rhythm that is REAL-LIFE. Nothing posed or artificial. All candid and in the moment. Always.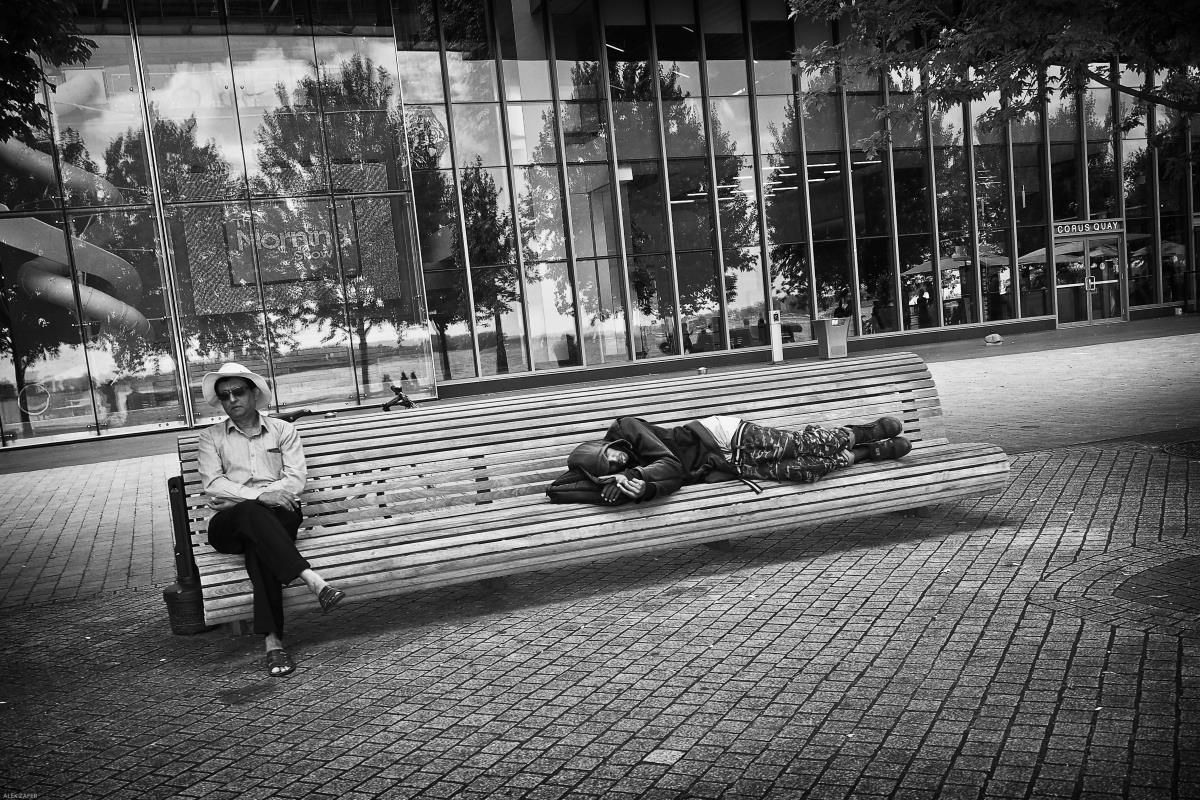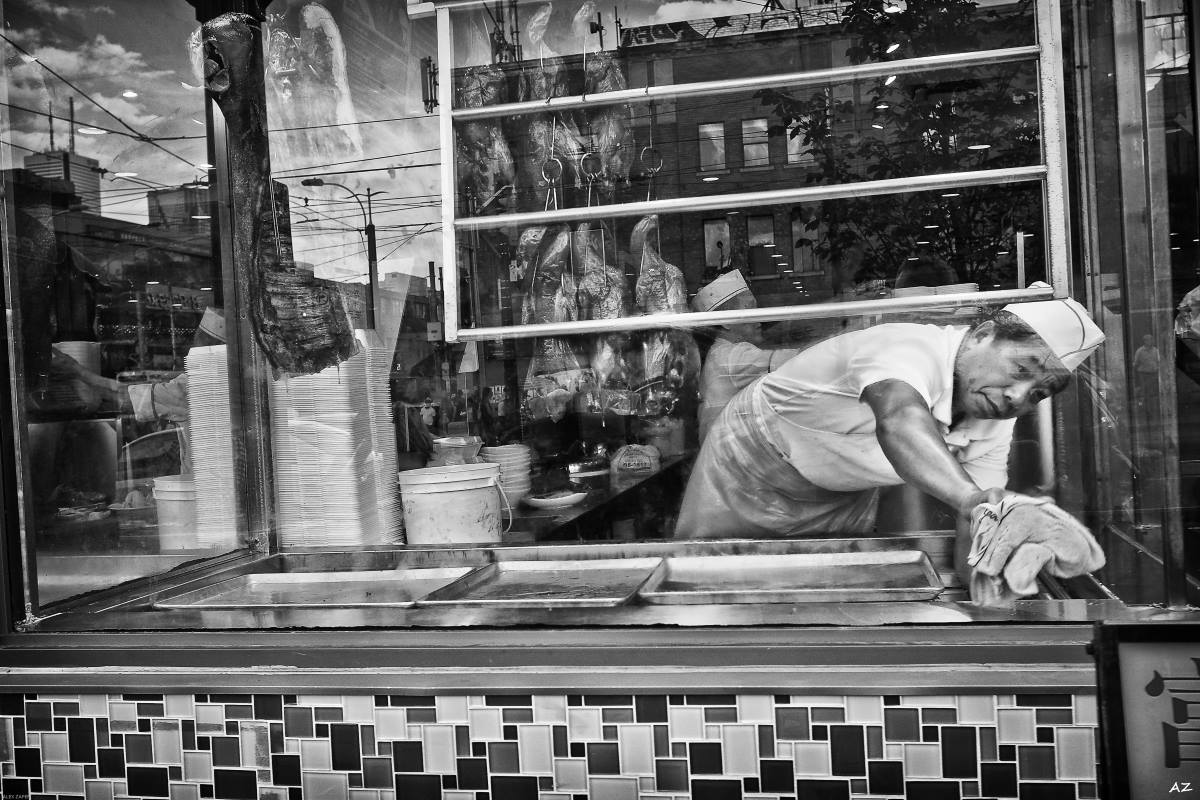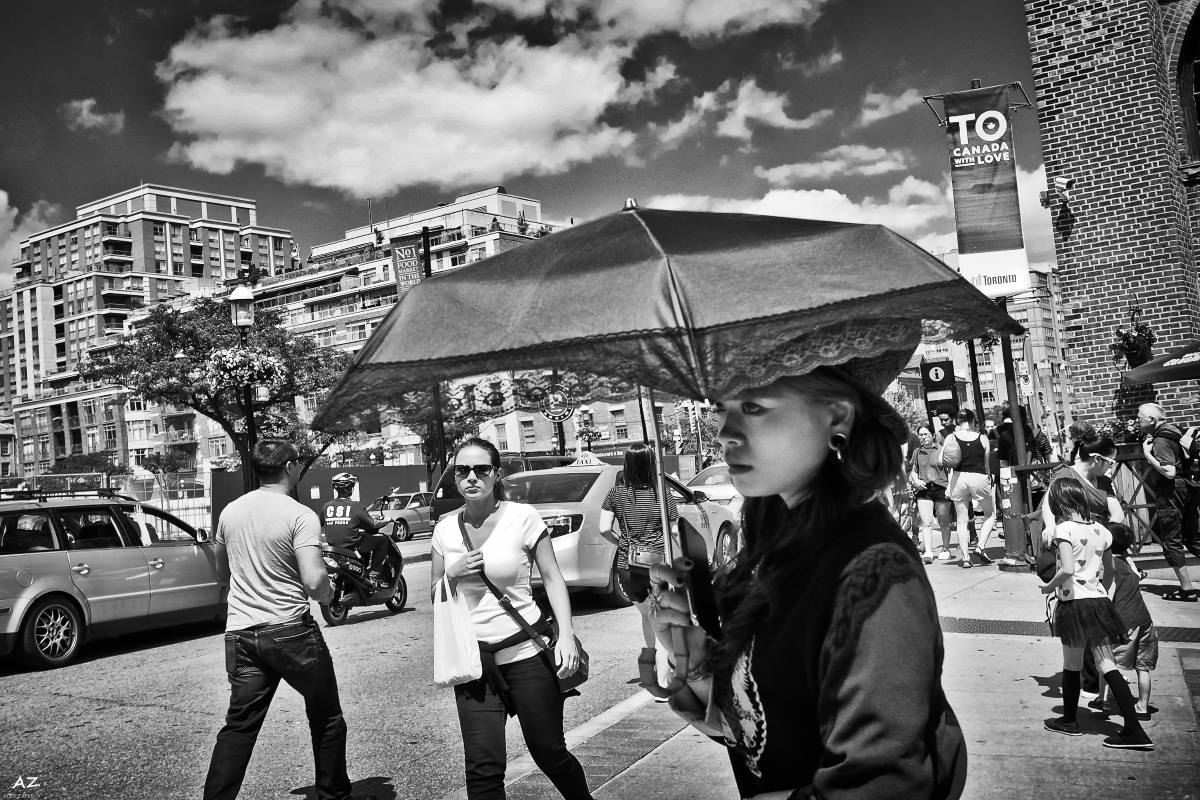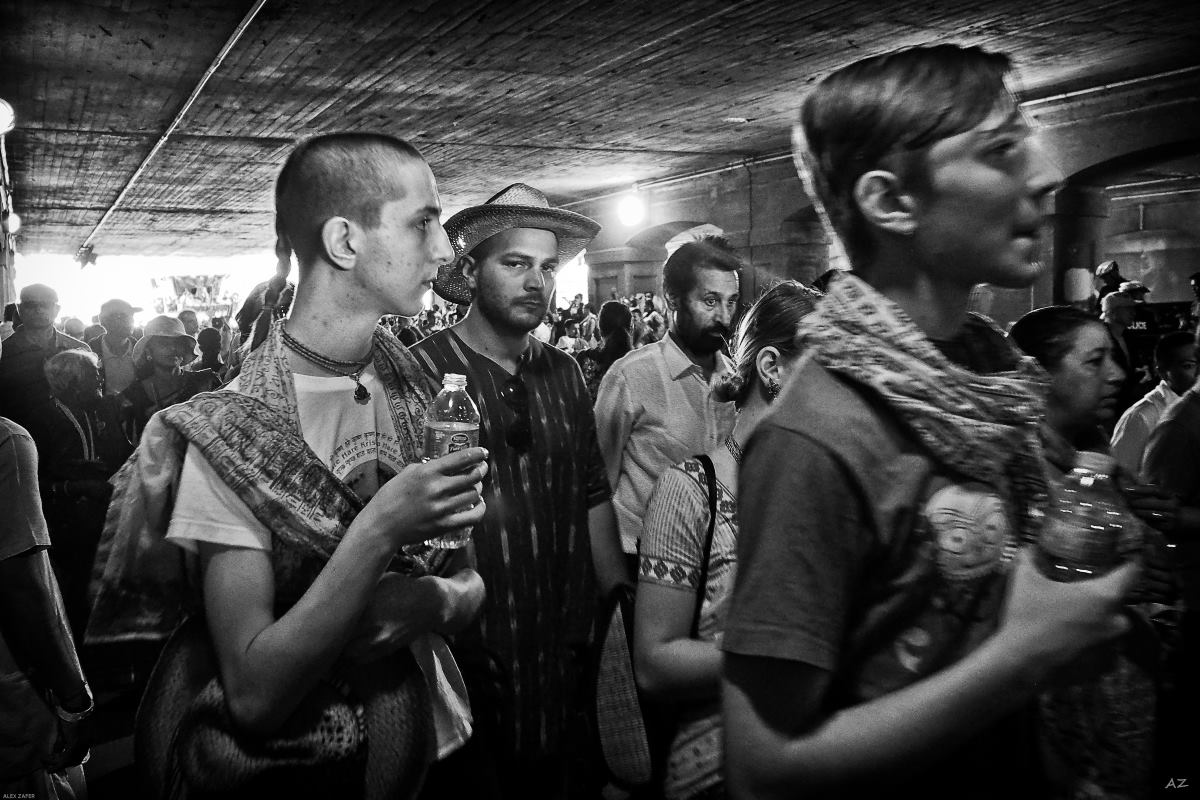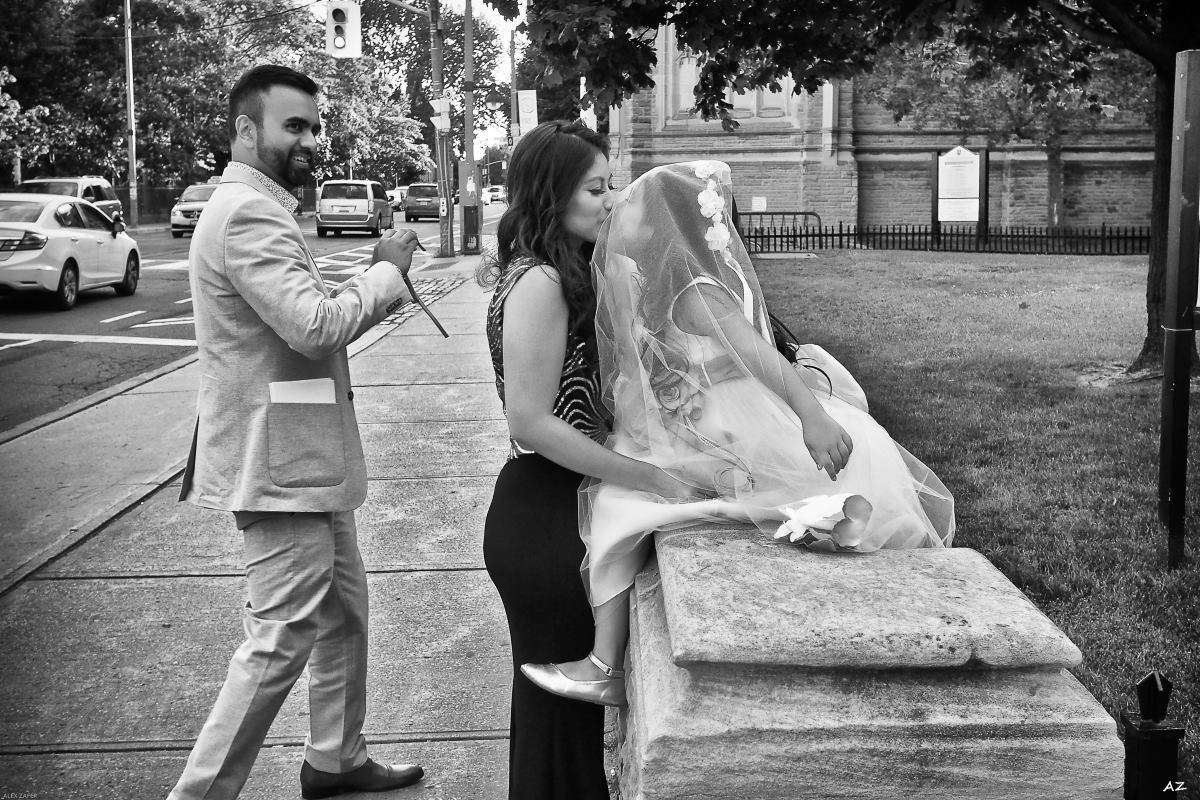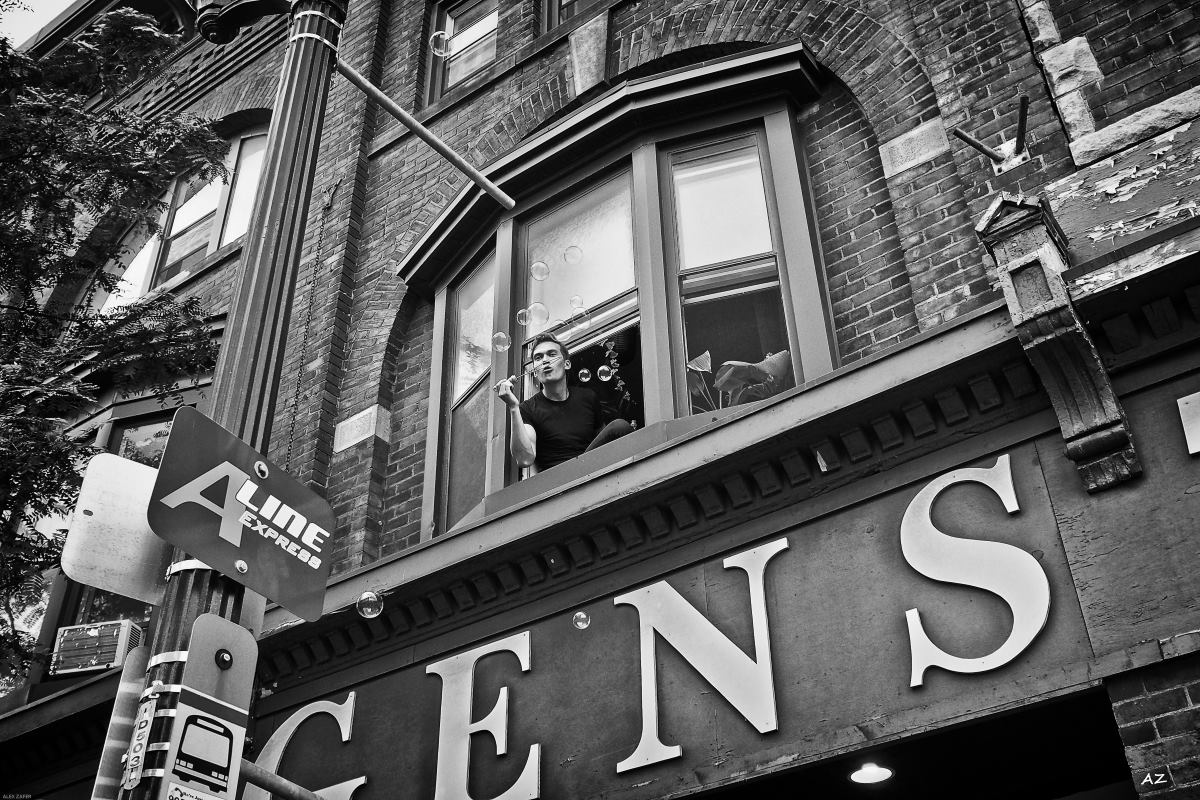 Wait for gallery slideshow to load above
- Street photography blog by Alex Zafer -
Candidly chronicling the streets through my lens, interpreting the world around me, the people, personalities and events I come across.